New Tao Tao DB10 - 110cc Fully Automatic Youth Dirt Bike
The Tao Motor DB10 dirt bike is a small-sized dirtbike designed for kids and is Tao Motor's best selling value-priced, gas-powered kid's pit bike. The DB 10 has been a staple in the Tao Motor lineup because of its dependability, power, and safety features, like dirtbike training wheels. Our dirtbikes deliver unbelievable value and quality for the price. If you are a parent or grandparent who is afraid of spending too much money on a dirtbike that your little one may grow out of in one year, but want a dependable dirtbike, then the Tao Motor brand is designed to fit your family's budget and needs.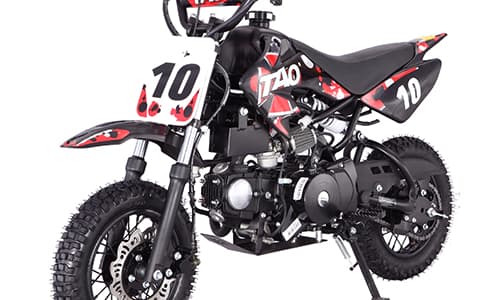 The DB 10, with its 6.4 horsepower 110cc 4-stroke engine, has enough power to pull an adult around and will be a great addition to the family when you need a fun mini bike. Developing a safe affordable dirtbike with a controlled speed governor has parents top of mind with the pit bike's training wheels so kids can learn too.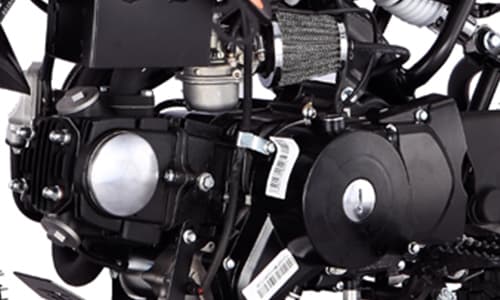 The pitbike's engines/motors are more than just reliable. Tao Motor dirtbikes come with a warranty. Don't worry about replacement parts- they can be found on Partskit.com. Tao Motor stocks all parts for all dirtbikes offered by Tao Motor locally in the USA. Tao Motor delivers on their promise delivering affordable family Powersports to all families with the Tao Motor DB 10.
ENGINE
Engine Type
107cc, Air cooled, 4-stroke, 1-cylinder, Automatic
Start Type
Electric Start
Transmission
Chain Drive
Engine Gear
Automatic
Ignition
CDI
Max Speed
30 Mph
Fuel Tank Capacity
1 Gallon
CHASSIS
Front Hand Brake
Hydraulic Disc
Rear Foot Brake
Drum
Tire Front
2.75 - 10 (Rim 1.4 x 10)
Tire Rear
2.75 - 10 (Rim 1.4 x10)
Wheelbase
36.81 Inches
DIMENSION
G.W
137 LBS
N.W
117 LBS
Carton Size
45 x 14 x 24 Inches
Seat Height
26 inches
Ground Clearance
6.7 inches